Skip to end of metadata
Go to start of metadata

This lesson covers how to create an Assignment which will allow students to submit documents to the instructor for review and grading.
1. Navigate to the area where you would like the assignment to appear, click Assessments, and choose Assignment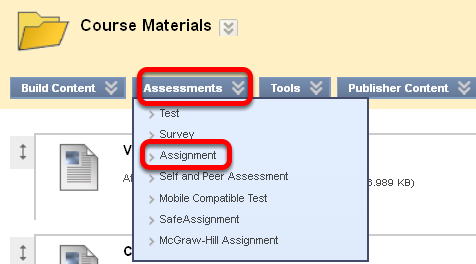 2. Choose a Name for the Assignment, and type Instructions in the Instructions box if desired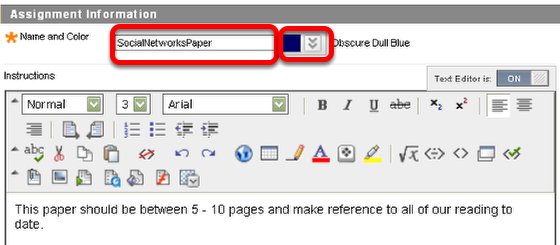 NOTE: You can change the color of the text by clicking the dropdown arrow in the box next to the name and color of assignment.
3. Attach any relevant files for students that relate to the Assignment by clicking Browse for Local File

4. If you are attaching a file, navigate to the file, select it by clicking, then click Choose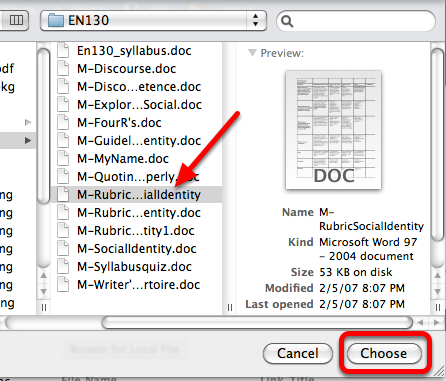 5. Enter the amount of Points Possible in the Grading area

NOTE: If you wish to add a rubric to this assignment, point to Add Rubric and choose one of the options:
Select Rubric associates a rubric that has already been created in the Rubrics area of Course Tools.
Create New Rubric opens a pop-up window to allow immediate creation of a new associated rubric.
Create From Existing uses a previously created rubric as a template to create a new associated rubric.
6. Choose Availability options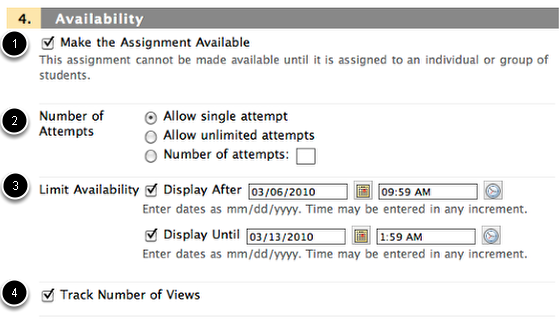 1. Make the Assignment Available means it will be available either immediately or according to the parameters set in the 3. Limit Availability. Note: If you uncheck Make the Assignment Available and then create Limit Availability parameters, t*he assignment won't appear* on the Display After date. The Assignment Available option must be checked for the assignment to appear when prompted.
2. Set the Number of Attempts a student is allowed to submit their assignment. (This will allow them to override previous submissions).
3. Choose to Limit Availability of the assignment to students according to certain dates if desired.
4. Choose to Track Number of Views if desired (these results will be seen in the Performance Dashboard in Control Panel section called Evaluation).
7. If desired, choose a Date and Time the assignment is to be due

8. Choose Recipients and click Submit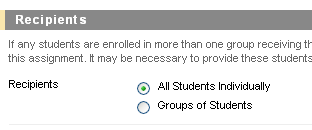 NOTE: Only choose Groups of Students if you have assigned groups using the Blackboard Group function and you only want to give the assignment to select groups.
Your Assignment has been created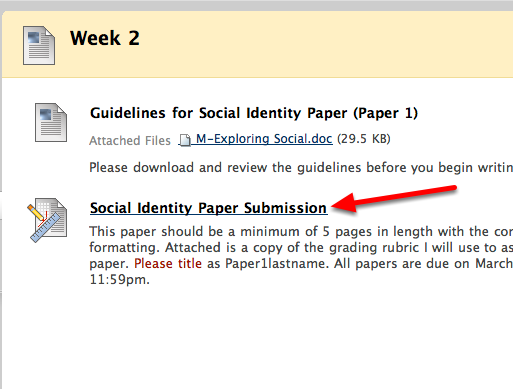 If the assignment is availability immediately according to your availability parameters, it will appear immediately for students. If not, you will still be able to see it with Edit Mode on. Students will see it according to the availability you've set.