Skip to end of metadata
Go to start of metadata
 
This Quickstart Guide will help you to connect to WPA2, Suffolk University's secured wireless Network for faculty, staff and students. Students will need their Suffolk username and password to access SU_Student_WPA2. Faculty and staff must use their Suffolk desktop username and password to access SU_Staff_WPA2.
 
University Computer Policy
Step 1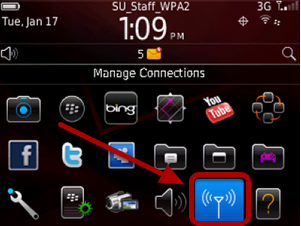 Go to Manage Connections and click on the wireless icon
Step 2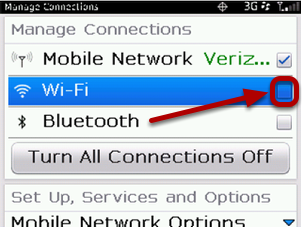 Check the Wi-Fi box if not checked to turn Wi-Fi on.
Step 3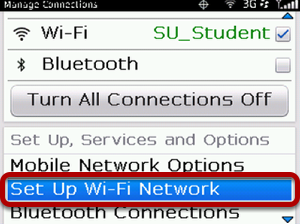 Select Set Up Wi-Fi Network
Step 4

Select Manually Connect to Network
Step 5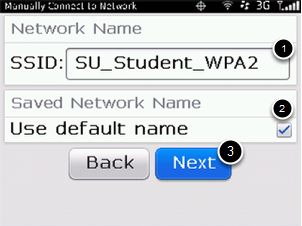 Enter the following information:
SSID: enter either SU_Student_WPA2 or SU-Staff_WPA2
Use default name: < leave as default with check mark>
Click Next
Step 6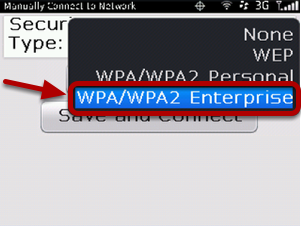 Security Type: *Select *WPA/WPA2 Enterprise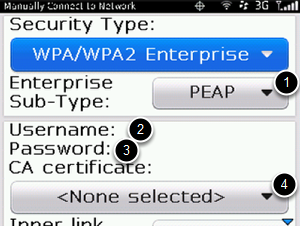 Enterprise Sub-Type: PEAP
User name: <your Suffolk University username>
User password: <your password>
CA certificate: <leave blank>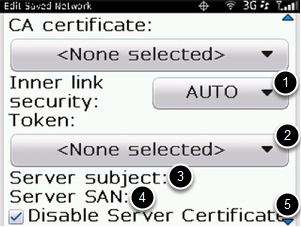 Inner link Security: AUTO
Token: <leave blank>
Server subject: <leave blank>
Server SAN: <leave blank>
Disable Server Certificate: <must be checked>
Step 6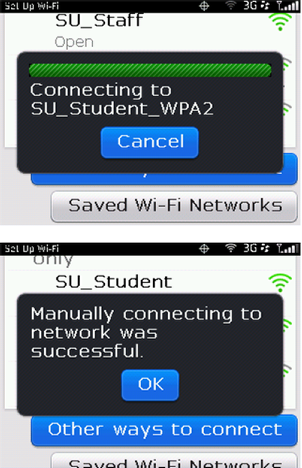 Click Save and Connect
Finished!
You should now be connected to the SU_Student_WPA2 or SU_Staff_WPA2 wireless network.
If you are still unable to connect after following the above instructions, please contact the Help Desk at (617) 557-2000 or email helpdesk@suffolk.edu.
Troubleshooting Tips
It may be necessary to turn your BlackBerry Wi-Fi off and back on in order to connect the first time.