Skip to end of metadata
Go to start of metadata
 
This Quickstart Guide will help you to connect to WPA2, Suffolk University's secured wireless Network for faculty, staff and students. Students will need their Suffolk username and password to access SU_Student_WPA2. Faculty and staff must use their Suffolk desktop username and password to access SU_Staff_WPA2.
 
University Computer Policy
Step 1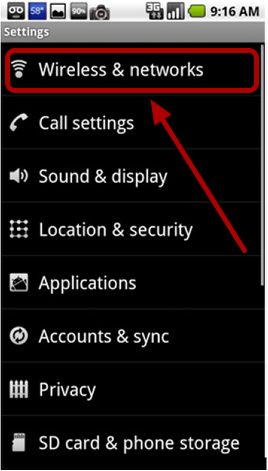 Go to Settings and select Wireless & networks
Step 2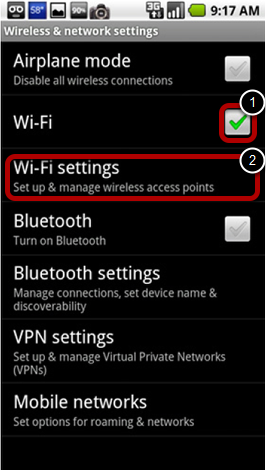 Check the box to the right of Wi-Fi and tap Wi-Fi settings
Step 3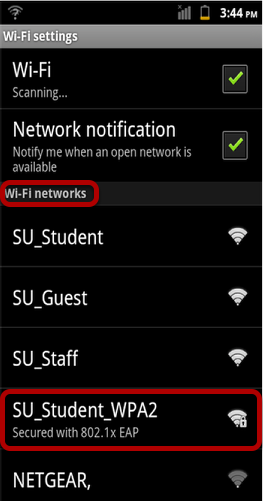 Under Wi-Fi networks, select either SU_Student_WPA2 or SU_Staff_WPA2
Step 4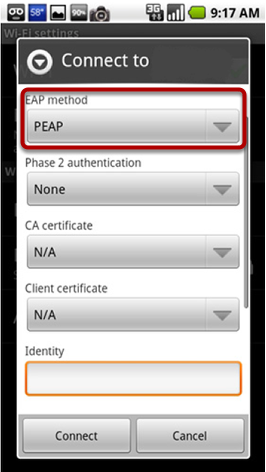 Set the EAP method to PEAP
Step 5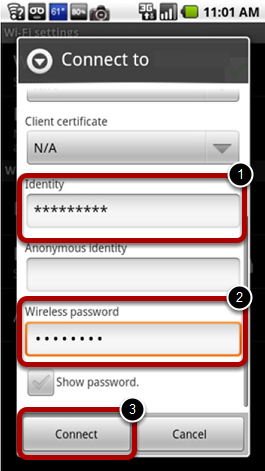 Scroll down and enter your Suffolk University username for the Identity field and your password for the Wireless password field. Then hit Connect.
Step 6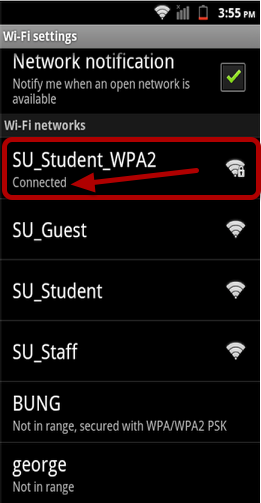 Under Wi-Fi networks, confirm that SU_Student_WPA2 or SU_Staff_WPA2 indicates it is connected. If not, select it again and hit Connect.
Finished!
You should now be connected to the SU_Student_WPA2 or SU_Staff_WPA2 wireless network.
If you are still unable to connect after following the above instructions, please contact the Help Desk at (617) 557-2000 or email helpdesk@suffolk.edu.