...
These emails either include directions to reply with private information, or provide a link to a malicious web site to verify your account.  Emails claiming very sudden changes or those that use poor spelling and grammar are clear warning signs of a fraudulent phishing email.
RECENT PHISHING ATTEMPTS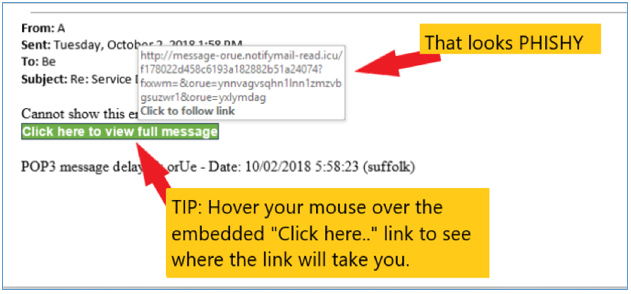 Image Added
Oct 2 - Notice the following phishy things:
Phishing attempt to get you to click on an embedded URL web link. Notice that this link just ask to "Click here.." trying to mask where it is going to send you. This link would potentially install malware on your machine or request user credentials. Notice that if you hover your mouse over the link it would direct you to the PHISHING site. This site is obviously not Suffolk and you were not expecting the email, even if the message was addressed to you.
Image Added
June 5 - Notice the following phishy things:
Phishing attempt an unexpected package is waiting for you. A package of malware. Was this a package you were expecting? Do not be fooled by email with attachments. This one you can see the attachment was removed because it was detected as malware.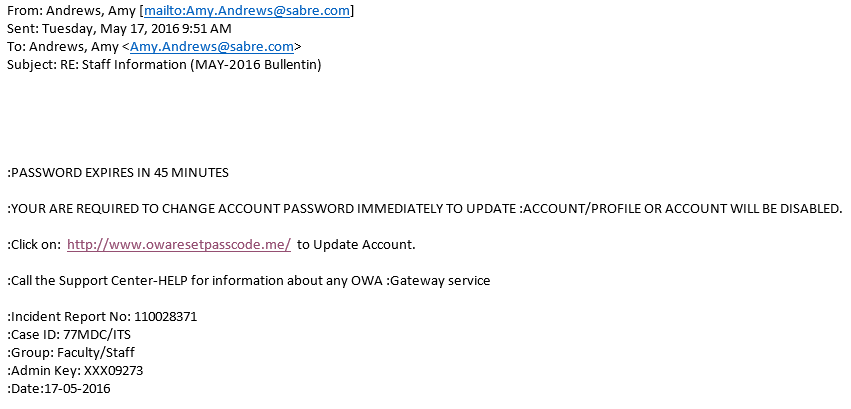 May 17 - Notice the following phishy things:
...
Phishing attempt indicating you won something! wait Wait really? "PLEASE FINE" bad english and email poor grammar and spelling. Email address is from "@dinur.ru" Russia. Attachment is definitely nothing you were expecting. This attachment is PDF with a virus .
...