| Reviewed by | Date |
| --- | --- |
| Incident Support Team | 8/7/2013 |
...
Suffolk University Furniture Purchasing Policy
All upholstered seating purchased or used by Suffolk University for use in any of its owned or leased buildings shall comply with the test criteria set forth in The State of California, Bureau of Home Furnishings and Thermal Insulation Technical Bulletin Number 133 (CAL 133) entitled "Flammability Test Procedure For Seating Furniture For Use In Public Occupancies," dated January 1991, or tested in accordance with ASTM E 1537-93, "Standard Test Method for Fire Testing of Real Scale Upholstered Furniture Items," and meeting the test criteria of California Technical Bulletin 133. Furniture covered under these requirements include upholstered chairs, benches, couches, futons, banquettes, mattresses and solid plastic chairs.  In order to comply with this standard, all furniture listed above must be equipped with a CAL TB 133 label (provided by the manufacturer) as pictured in the example below.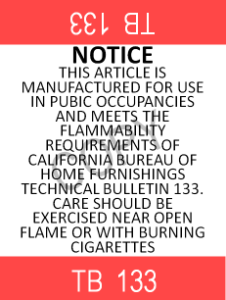 | Reviewed by | Date |
| --- | --- |
| Incident Support Team | 8/19/2015 |